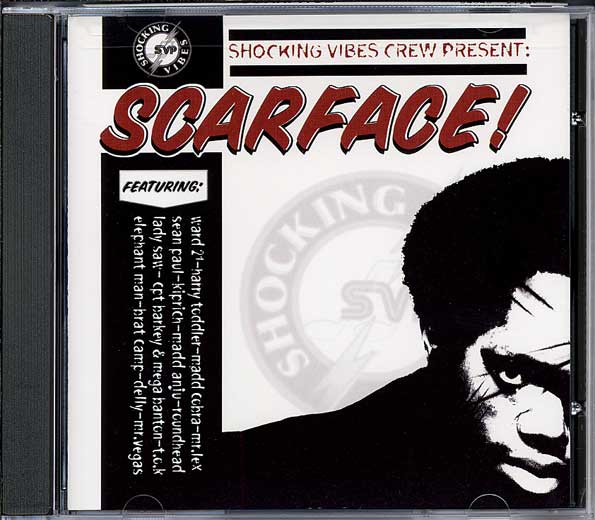 Le Scareface a été produit par le Shocking Vibes Crew mais les morceaux les plus connus sont ceux présents sur le CD édité par le Label VP
Il existe 2 volumes du Scarface! mais (à ma conaissance) 1 seul a été commercialisé.
Scarface! CD. Volume 1 (Editeur : VP Records)
Captain Barkey, Mega Banton - Hot Gal Race
Ward 21 - Anti-Spy
Harry Toddler - Dance The Angel
Mad Cobra - Unexpected
Sean Paul - My Name
T.O.K. - Kitty
Mr Vegas - Original Trend
Kiprich - Imagine This
Lexxus - You
Madd Anju - Shorts
Elephant Man - Replacement Killer
Delly Ranks - Hey You
Lady Saw - New Checkie Book
Red Rat,Brat Camp - Me To
Roundhead - Don't Test Me
Scareface! CD. Volume 2 ?
Pas de CD2 en vente ??? mais toutes les autres versions (à ma connaissance) sont dispos en vinyl.
Beenie Man - Be Quiet
Future Troubles - Mi See It
Daddy Screw - Don Daddies
Goofy - Boops (Rbk realase)
Hawkeye - Wave Onu Hand
Kirk Davis - Dem A Cry
Patchy - Say No
Prince Gregg - The Way
Mr Phang - Trouble
Rickie Rudie - Bling Dawg
Shad Du - Turn And Twist
Silver Cat - No Disrespect
Snagga Pus - Tun Back Fire
Mega Banton,T.O.K. - Scarface
Devonte - No Worry (Rbk realase)
Tanto Metro - Bun A Fire (Rbk realase)
Il existe également d'autres label ayant repris le Scarface
Le plus connu : Label : Rude Boy
Track List (Incomplete)
Danny English - Thugs
General B - How We Roll
Mega Banton - Position & Skill / Instrumental
Powerman - Ding Dong
[Vous devez être inscrit et connecté pour voir ce lien]